"Purrrfectly Wild About You!"™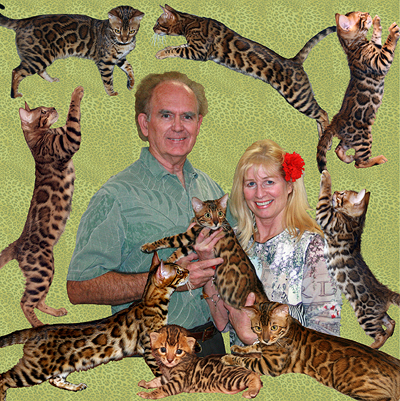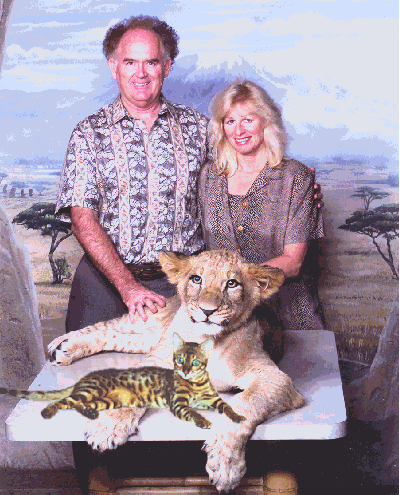 Summermist Bengal Cats was founded by Sheila and John Fowler as a natural progression from their phenomenally successful Summermist Standard Poodles.
We have beautiful Rosetted Bengal Cats and Rosetted Bengal Kittens for sale.

Please Read

The Story of Our Bengal Kitten Purrrcy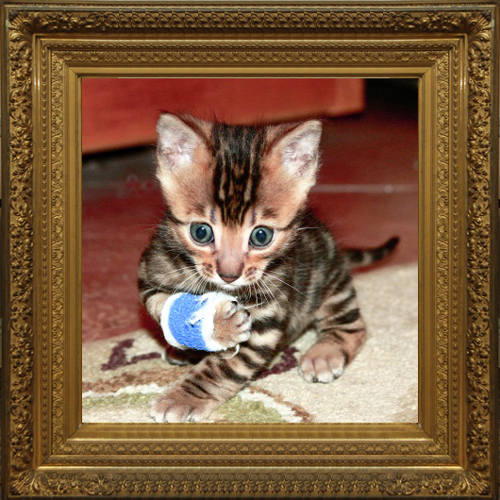 We have shown many beautiful
Supreme Grand Champion Bengal cats, #1 Regional Winner Bengal cats, and other Bengal cat Champions!

Supreme Grand Champion Bengal Cat Perry.




Summermist Command Purrrformance "Perry"-Supreme Grand Champion Bengal cat. #1 Regional Bengal Cat Winner and the 8th best Bengal Cat in the World!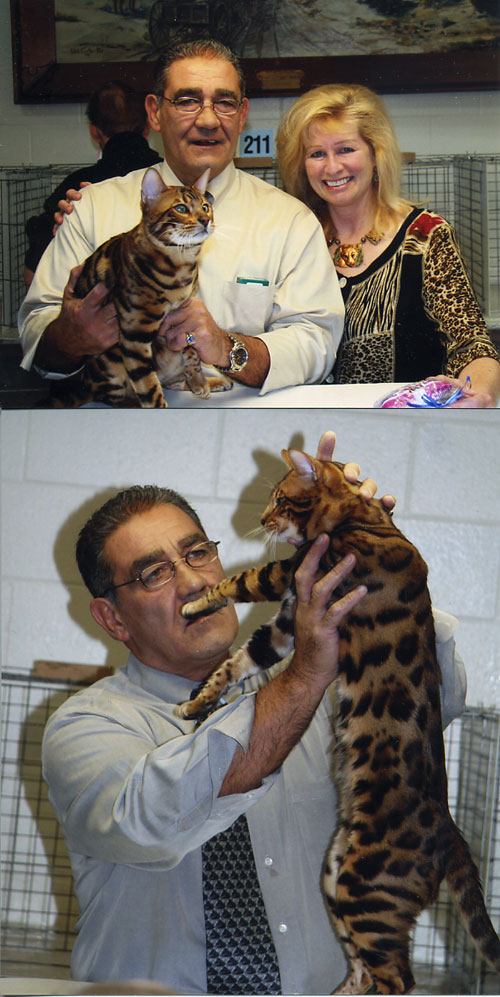 Triple Grand Champion Bengal Cat Dazzledots Social Success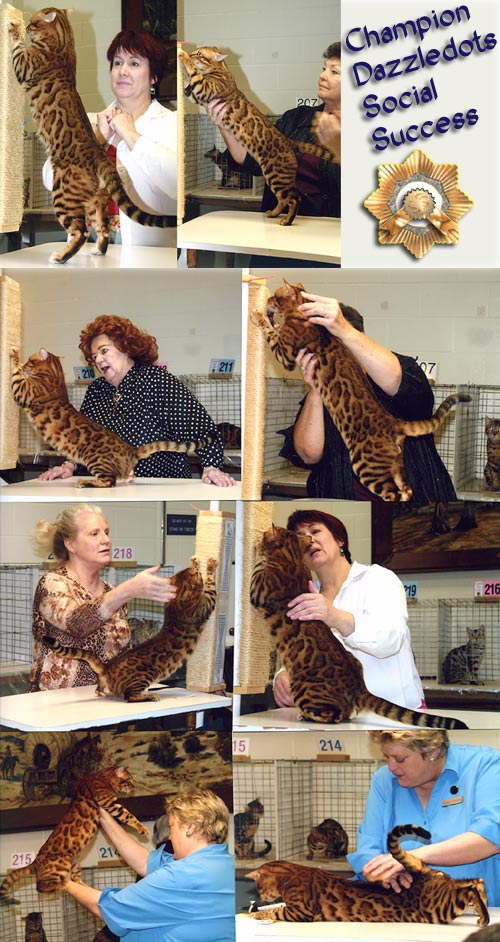 Double Grand Champion Bengal Cat Ducati


Bengal Cat Winston and Champion Bengal Cat Tina. This picture was placed in Cat Fancy Magazine.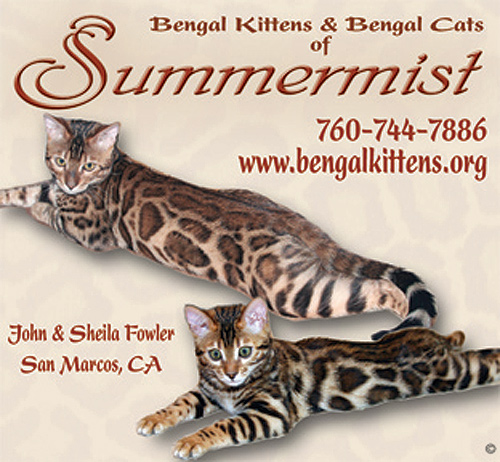 Sheila with home bred Champion Bengal Cat Summermist Tina Purrrner.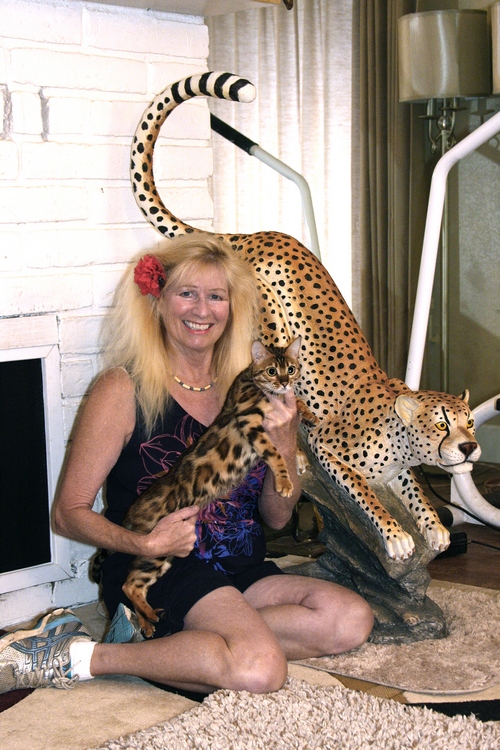 Summermist I Got Sunshine was awarded TICA's Outstanding Bengal Cat Dam Award for producing the most Supreme Grand Champions in a year.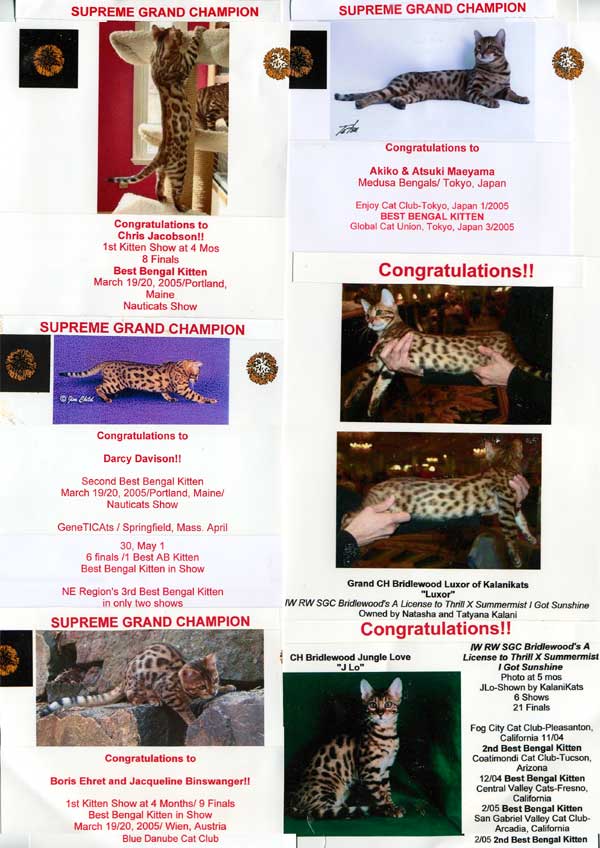 .
Since our initiation into Bengal Cats in 2001, Summermist Bengal Cats has come a long way in producing beautiful Rosetted Bengal cats. So, as we approach another year breeding and showing Bengal Cats and Bengal kittens, we feel it is time to look back on how we did and where we are going.
First, our philosophy in breeding always places our animals first in everything we do. No show is so important that we risk the health of our Bengal cats or anyone else's to attend. At home, our Bengal cats always come first for food, cleaning, health, love and attention. We work closely with Southern California's finest veterinarians to provide our Bengal cats with the finest in health care. All of our Bengal kittens for sale are checked by our local veterinarian to assure every Bengal kitten has the healthiest of starts with their new owners.
From 2001 to 2005, we learned about raising Bengal Cats, how the show process works and met many new friends and acquaintances. Along the way we completed the following significant accomplishments:
• Eligible for the TICA Top Producing Dam Award for Summermist Sunshine who produced 7 Supreme Grand Champions in a single year.
• Achievement of Double Grand Champion (DGC) for Belara Ducati of Summermist, "Ducati" in the 2004 show season.
• Achievement of the top Bengal in the Great Lakes Region for RW SGC Wildlove Quatro Diablo ("Pizza").
• Achievement of Quad Grand Champion for "Pizza".
• Achievement of Supreme Grand Champion for SGC Summermist Command Purrrformance ("Perry").