It is amazing how much misinformation seems to get into the public domain about the Bengal Cat, especially noting that any cat can appear to be wild and crazy due to a variety of reasons. Our experience in breeding, raising and showing Bengal Cats over 17 years finds them to be intelligent, athletic, playful, loving and fun companions.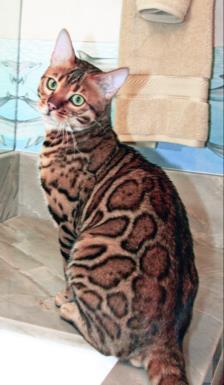 Bengal Cat
Some of the misconceptions of the Bengal may stem from the origin of breeding the Asian Leopard Cat (ALC) to a domestic cat in the early 1960s. The name Bengal seems to create confusion when people unfamiliar with the Bengal Cat first hear the name thinking immediately it is a Bengal tiger. The name given for the cross between an ALC and a domestic cat is taken from the scientific name for the ALC which is Prionailurus bengalensis. The name "Bengal" is taken from the second part of the scientific name.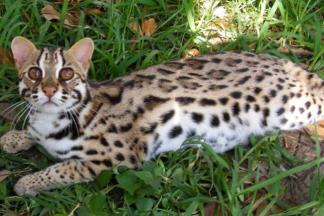 Asian Leopard Cat
There seems to be a misconception of the Bengal due to its wild ancestor. To be sure, the ALC is a small wild forest cat and the life of an ALC is like other small wild cats that have to survive on small game in a forest setting. So, because the ALC is wild, that connotation gets put onto the Bengal due to ignorance. The "wild" description may have applied in the 1960s into the 1990s, but people breeding Bengals in Asia and in other parts of the world raised litters by ALCs for the purpose of breeding to domestic cats to develop a line of Bengals. Those ALC's, while retaining their natural heritage, did not develop as "wild" cats. While this seems like a way to avert the wild nature, it is not. Wild cats taken out of their natural environment still retain behaviors some of which show up later in life such as refusal to use the litter box. Further, ALCs come in a variety of shapes and sizes including long hair and short hair.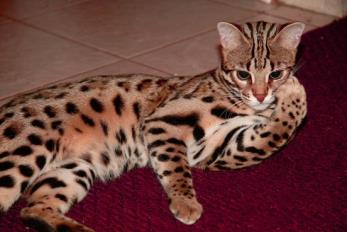 F1
The development of the Bengal began with the mating of an ALC to a domestic cat breed such as Egyptian Mau, Abyssinian and Ocicat. Today, most Bengal breeders breed Bengal to Bengal as they breed true (meaning the offspring reliably look like Bengals). Most of the breeding to the ALC occurred in years past, but some breeders continue today making things more complicated as there are more Foundation cats produced that eventually will need a home. Foundation cats are produced by breeding first to an ALC producing an F1 litter, then and F1 female (the males are sterile) in earlier years to a domestic, but today a Bengal (F4 or further away from the ALC) is used to establish "type" (type are features that set this breed apart from any other and are defined in the Bengal Breed Standard). This would produce an F2 litter. An F2 female (again males are likely to be sterile at this point as well) would be bred to a Bengal producing an F3 litter. The F3 litter would be the last to be known as Foundations. The F3 female (males are questionable, but not necessarily sterile) would be bred to a Bengal producing an F4 litter which is the first generation that could be registered as a Bengal in The International Cat Association (TICA). So, a process such as described would be used to get to the point where the offspring can be registered as Bengal Cats. This process is done to develop a line of Bengals that the breeder believes would be new and extraordinary. But, most people do not have the facilities and knowledge to care for an ALC or even a Foundation cat. These animals are not meant for public sale, but the sterile males have to live somewhere. If placed as companions, Foundation cats may revert to more wild instincts later (one to two years) in their life that the public is not prepared to handle. This can result in the Foundation cat winding up in a sanctuary where everything they know will be taken away.



Bengal "Angel" on Exercise Wheel
So, that is the way Foundation cats happen. But, most Bengal breeders today breed Bengal to Bengal. These cats are 10, 12, or more generations away from the ALC and show no signs of the kinds of behaviors that various animal rights groups theorize a Bengal exhibits. Let's just use common sense. One of the great animal shows on TV is on Animal Planet called "My Cat from Hell". On this program, cat behaviorist Jackson Galaxy visits a home where a cat or cats are creating problems like attacking the owner or owner's guests, attacking another cat, urinating everywhere but in the litter box, defecating outside the litter box, etc. He meets the people, asks what the issues are and meets the cat or cats involved. Without going into detail, he assigns homework and returns in two weeks; he then assigns corrections and comes back in two more weeks for the final visit that is most always successful. The point of bringing this program into this article is most of the cats are strays rehomed, shelter cats, etc. And these cats show some of the most vicious behavior ever seen including biting and scratching and sending caretakers to the emergency room. In all the episodes, each situation found that the caretakers did not understand feline behavior. Simple issues like stray cats outside caused the inside cat to start marking in defense of the strays. Then there were cats that hated one another that were never properly introduced. Except for a few cases involving health, all the cat issues were fully resolved. None of the cats mentioned were Bengals, yet they behaved in ways that suggested a wild and vicious nature; even the most vicious behavior wound up purring and loving to be petted in the end. So, applying common sense, regular domestic cats can behave in the most vicious ways, but have no ALC in them.



Bengal Cat and Standard Poodle
The Bengal cat provides the most interactive companionship. The spotted/rosetted coat patterns appear to replicate that of a leopard making the Bengal an exotic pet. Some can be a lap cat, some are more active. Bengals come when called just like a dog! Our Bengals interact with our Standard Poodles and the feedback from my clients is the Bengals get along great with their dogs. They love to play and run on their exercise wheel and show off. They love chasing and catching various toys and will play for a long time with you. If you don't have time to spend with your Bengal, this is not the cat for you. Their coats are sleek and short and shed less than any other breed to the point you might think they don't shed at all. They can be vocal and most love water and play with the running faucet. At the same time, they relax when you relax. They love to be with you and will follow you from room to room. At night, they sleep on the bed with you, be right next to you and touch you. Bengals are the very best feline companions ever created.